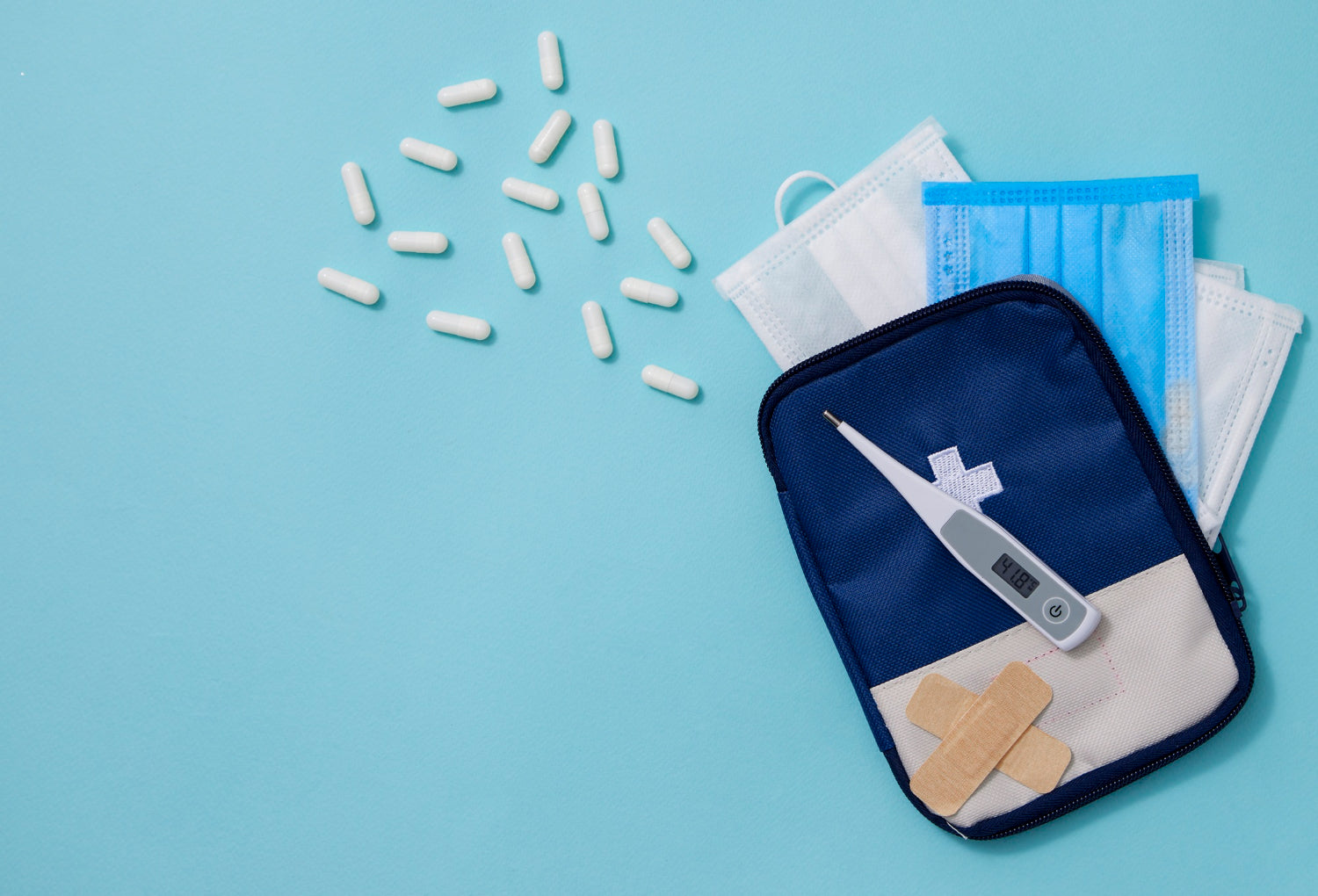 Monsoon Essential Kit- What gears to stock in this Monsoon?
After the scorching heat, nothing feels better than enjoying the refreshing showers of rain. As the monsoon is around the corner it's time to embrace ourselves for the beauty and greenery making its way.
However, this pleasant shower, beautiful weather, and everything green about the monsoon come with a good share of challenges as well. The best we can do is to safeguard ourselves from the harmful consequences which come knocking at the door as challenges. It's even more important to prepare yourself at best for plausible mishaps. From waterborne diseases to allergies, it becomes necessary for one to take care of their health at the onset of monsoon.
 In this blog, we have covered everything essential for you to include in your kit to keep you prepared and protected.
 Must have essentials this Monsoon:
Insect Repellent

:- Monsoon comes with its problem of stagnant water which is an ideal breeding place for mosquitoes and insects. The surge in mosquitoes has given birth to many deadly diseases like malaria, dengue, and chikungunya. So, this rainy season is a call for you to protect yourself from life-threatening diseases. It is advisable for you to apply some ointments and lotions to keep yourself away from pestering mosquitoes. Here are some tips one can follow to stay away from pesky mosquitoes:-

Spray insect repellent at your house when insects are most active.

Apply ointment or lotion on your body when you move outdoors.

Prefer wearing full sleeves.

Avoid water storage or clean the area outside of the house to avoid stagnant water.

Buy Repellents that consist of potent ingredients like DEET and Eucalyptus oil which are significant.
Medical First Aid Kit

:-

Be it anywhere or everywhere, first aid kit is a must-have for any kind of emergency. An emergency can knock on your door without any wake-up call so this makes it crucial for one to carry a well-stocked kit consisting following things

Adhesive Tape

Bandages for all sizes.

Antiseptic cream

Painkillers

Sanitizer

Scissors

Cotton rolls
Remember to also include a list of emergency numbers in cases of emergencies. It is best to keep the habit of checking the expiry dates of medical pills. In cases of allergy or existing health issues, one must curate the kit according to their needs.
Treatment for cold and cough

:- Who doesn't love to get drenched in rain? We all love to do. But are you the one who avoids getting wet due to a runny nose or cough? The rainy season is well-known to bring cough and flu if not taken enough safety measures. In this season of pleasure, we often get wet, and this brings us some issues. Those issues are curable. It is suggested that whenever your experience a mild cold, flu, high fever, or running nose, it is better to treat them with devices like a steam inhaler as it clears up your respiratory tract or nebulizers which keeps your wheezing under control.
Personal Hygiene Gear

:-

Hygiene should not be a choice, it should be a priority. During the rainy season, it's sensible for one to keep a pack of hand sanitizers, soap, gloves, and wet wipes to keep their hands clean and tidy and to avoid the spread of diseases. Carrying other props like waterproof bags, light sources, raincoats, and umbrellas can also make a significant impact during monsoon. Well-being is always having these items to prevent yourself from getting sick due to wet weather.
Water Purification Kit

:

- During monsoon, the spurt in waterborne diseases is even more than the rise in water level! Diseases like typhoid, influenza, diarrhea, and many more infectious issues make their way with the monsoon. To mitigate the risk of posing such diseases, it is well considered to invest in water purification kits like portable water filters and UV water purifiers. These tools ensure your safe drinking and steer your way away from contaminated water.
Respiratory Care for Prone:- Monsoon not only comes with rain but also with a good amount of humidity. This can trigger respiratory issues among the existing due to dust, pollution, or any other factors prevailing during rainy seasons. That's why it is recommended that vulnerable people stay in a properly ventilated area out of moisture and dampness. It is judicious if one routinely maintains respiratory hygiene by wearing masks in polluted areas, staying hydrated, and keeping cleanliness in the moist area. Using an Air purifier to gain the optimum humidity level in your room to prevent the growth of moss is considered a valuable step.
Food Supplements and Snacks

:-

Eating healthy food should not happen on blue moon days. It's urged for one to take care of their health and have a strong immune system. For your well-being, you should consume foods that are nutritious and immunity-boosting, packed full of minerals and vitamins. Always carry snacks in your bags like dried nuts, and granola bars, and avoid eating junk or moisturized food.
 Summing Up:
 As said 'Precaution is always better than cure'. Instead of waiting for something unlikely to happen, it's best of the interest if one moves outdoors staying prepared for any kind of circumstances they can likely face. So this monsoon, roll up your sleeves, do good to yourself by buying the essentials and enjoy the season of monsoon to the fullest. Let the challenges be not your obstacle to enjoy the season. Embrace the monsoon this year by following the guide and gathering the right gear. Happy monsoon!